What is the Devonport Chamber Orchestra?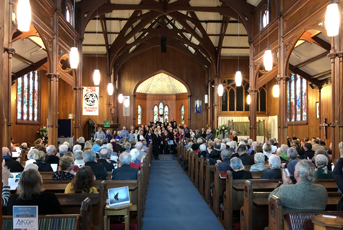 The Devonport Chamber Orchestra (DCO) is a community orchestra group, passionate about providing accessible classical music. We offer you four to six live performance concerts each year in the seaside suburb of Devonport on Auckland's North Shore.
In past years, our concerts were in one of three venues - The Depot Artspace, Harmony Hall or Holy Trinity Church.
Since 2016 all our concerts are held at:
Holy Trinity Anglican Church,
20 Church Street,
Devonport. (click here for location map)
Classical music for everyone
The DCO experience is for everyone; concert-goers of all ages, musicians wanting to perform in a local, receptive setting, or a community-minded person wanting to be involved from an organisational perspective. Our music range is mostly from the classical repertoire.
Would you like to be on our concert mailing list? If so, click here.
Other amateur orchestras that may be of interest to you:
St. Matthews Chamber Orchestra
Auckland Symphony Orchestra
Manukau Symphony Orchestra
Auckland Sinfonietta Orchestra